Safety
Design performance

Every day some 200 million people in 140 countries use a Cricket lighter. And that is not by coincidence. Our lighters represent quality and safety. All Cricket lighters sold worldwide have undergone over 60 quality tests and are ISO 9994 certified. The auto flame feature means that dangerously tall flames are not a matter for worry. What's more, every Cricket lighter is resistant to temperatures over 65° Celsius. The pressure bar makes the silicon lighter safe for children, because children can not safely capture the sparking wheel.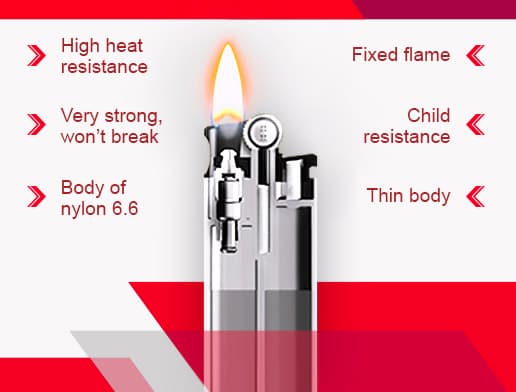 ---
Why do Cricket lighters have autoflame?
All Cricket lighters use Cricket auto flame technology, providing many advantages for consumers:
No more surprises due to a very high flame: the flame height adjuster on lighters with an adjustable flame is easily moved to maximum just by catching it in the lining of your pocket, for example. The resulting high flame (120 mm) could give you a big surprise when you light up your cigarette. The same might happen if you forget that you have set the flame height to maximum. With an autoflame, the Cricket lighter has a maximum flame height of 45 mm at normal room temperature. Always consistent.
Reliable system: fewer moving parts means a simpler, more reliable system.
Perfect flame height: during production, every single lighter is automatically tested to ensure a perfect flame height for lighting a cigarette.
---
Why nylon lighters?
All Cricket lighters are made of nylon. We have chosen this material for its many benefits. The main ones being:
Nylon is self-extinguishing: once the ignition source is removed, nylon stops burning.
Nylon is strong and highly impact-resistant across a broad temperature range. You can use a Cricket lighter from the equator to the poles.
Nylon enables us to produce very thin casings. So Cricket can combine high gas content with a slimline design.
Nylon is resistant to acetone, petrol, diesel fuel, cosmetics, fats and oils.
---
Heat Resistance
Heat Resistance is a technical term that is used to state that a product can resist predefined temperatures without losing the intrinsic functionality. For lighters these temperature levels are given in standards like ISO 9994 where specific temperature tests are defined. Cricket lighters comply with this standard.
---
Why are Cricket lighters known as the quality lighter?
ISO 9994. Cricket lighters are fully compliant with international safety standards. With intensive R&D research into safety regulations and continuous checks on the production line, Cricket aims to be at the forefront of consumer safety. The lighters flame behaviour, durability and resistance to temperatures are all compliant with requirements of ISO 9994:2005 certification.
Each Cricket lighter model undergoes a thorough annual check and is certified by renowned external accredited laboratories. Thanks to ISO 9001:2000 certification, Cricket Lighters are at the cutting edge of international safety regulations. The organisation and the production processes at Cricket Lighters are ISO 9001 certified. Our quality system is designed for optimal performance (Accuracy in delivery, process control, service).
ISO 14001. Thanks to ISO 14001:2004 certification, we established to minimise harm to the environment during production processes.
---
Child resistance (General)
In the U.S.A, Canada, Australia and New Zealand the Child Resistant lighters are already mandatory since 1994. As of march 2007, also the EU-countries have introduced the Child Resistant lighters. In Ukraine such lighters will be introduced in 2019.
The Cricket Child Resistance mechanisms prevents children from operating the lighter with the smallest comfort reduction for adults.
Cricket lighters must comply to very strict safety standards. Basically each country has governmentally recognized test bodies that will certify products to insure that they comply to international safety standards like DIN, ISO and ASTM. The GS marking, «Geprüfte Sicherheit», is a German safety certificate marking that shows that the lighter is tested and conforms with the lighter safety standard ISO 9994.
We have the GS Marking for the CR (child resistant) lighters for Europe. Ukrainian law will oblige to sell lighters only with CR system in 2019.
The Cricket lighter is equipped with a strip between the thumbwheels (actuating sections) of the (small) spark wheel. The topside of this strip is substantially flush with the outside perimeter of the thumb wheels. The strip limits reaching and gripping the sparkwheel. Ergonomic solution, access protection of sparkwheel. Testing was conducted in accordance with the test protocol of the Safety Standard for Cigarette Lighters at 16 CFR section 1210.4. In so doing, the smallest comfort reduction for adults.
---
Child resistance system in Standard lighters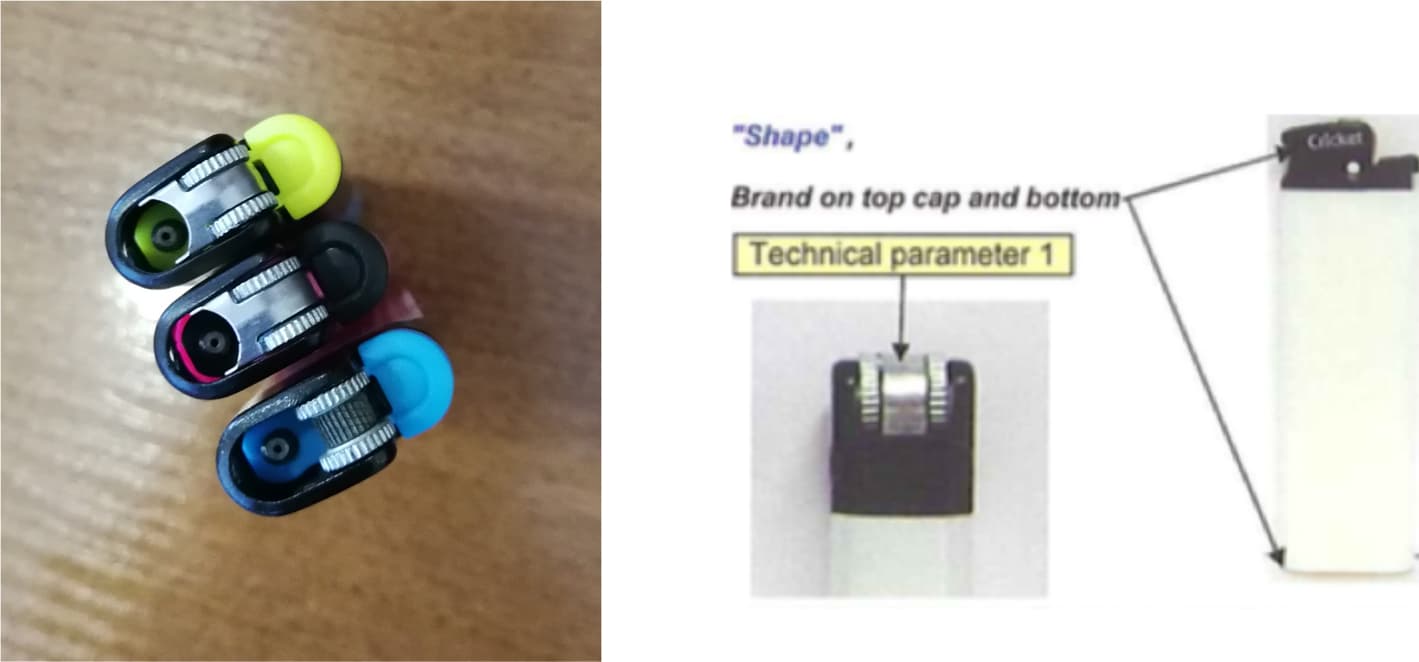 Picture inscription. There are lighters with CR (yellow and black buttons) and a lighter without CR (blue button) on the photo.